Tip trial turns green waste into black gold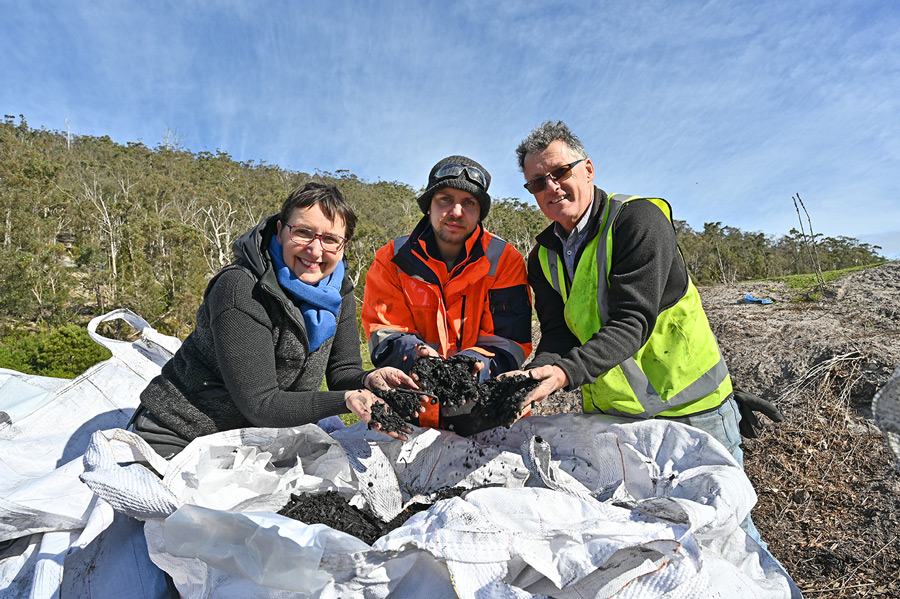 Hobart's McRobie's Gully Waste Management Centre is being used as a trial site for a project aimed at turning green waste into black gold in the form of biochar, a fine-grained charcoal that can enrich garden soil, store carbon and reduce the need for fertilisers.
The biochar pilot program was initiated by the STCA, supported by the City of Hobart and is being run by Aboriginal-owned enterprise Heal Country.
"The biochar trials we are running at McRobies could result in real environmental and waste gains for city and regional councils," STCA chair Helen Burnet said.
"Turning green waste, branches and even weeds into biochar will reduce greenhouse gases and help store carbon in the ground.
"These trials could also lead to greater accessibility to biochar as a soil enriching agent for local gardeners and our farming communities as well as for many municipal applications.
"Biochar is already big business in Europe, where it can fetch up to 2000 Euros ($3200) a tonne depending on its quality and is being used in everything from agriculture to street tree planting projects.
"It is also being championed in Victoria where the Yarra Ranges Council is turning woody materials such as prunings and garden branches into biochar."
The City of Hobart has partnered with Heal Country to run the trials.
Heal Country is an Aboriginal-owned enterprise that works with First Nations people.
The City is conducting a one-month trial to help assess the suitability of biochar processing of green waste for regional local government areas, in particular remote communities.
Heal Country facilitates land regeneration activities including Aboriginal cultural burning, and reconnections with places and stories.
Heal Country's Grant Finlay said the pilot program employed three Aboriginal people and was one way of regenerating country was through creating biochar.
"It is a very practical way to transform weeds and other green waste into something that is healthy for the soil, improves water retention and supports the slow release of fertiliser," Mr Finlay said.
"Biochar is pure carbon.
"It sequesters carbon in the soil for hundreds, even a thousand, years.
"The biochar kiln is specially designed and made in lutruwita/Tasmania.
"The kiln burns weeds and green waste at high temperature with little or no oxygen.
"This locks the carbon into the biochar instead of releasing it into the air as smoke.
"This reduces greenhouse gas emissions.
"Biochar improves the health of soil and enhances the growth of vegetables and other plants as well as reducing the amount of watering or irrigation needed.
"Biochar produced in this pilot will be shared between Hobart City Council and Heal Country and will be used in regenerating Country, council landscaping, and horticulture activities."
The initial four-week trial is being held at the McRobies Gully Waste Management Centre and will be used to demonstrate the operation of a biochar kiln, quantify the volume of green waste that could be converted into biochar, and trial uses for the biochar.
A purpose-built kiln will be used to combust green waste at high temperatures, doused in water to stop the burning process, leaving a charcoal like 'biochar' material.
This material is highly porous, promotes high microbial activity within soils, has high water retention properties, and returns carbon to the earth.